PRESS RELEASE
August 14, 2019
LabFind—a mobile app that guides students to campus technology
---
LabFind enables students on any campus to search for and navigate to campus resources, such as computers, printers, projectors, whiteboards, group study space and more, live in real-time.
With LabFind, university IT administrators can add directions to campus technology resources right where students expect them: on their phones.
LabFind positively impacts the experience students have on-campus—discovering campus resources is no longer challenging. This greatly benefits new students, international students, non-traditional students, campus commuters, students who require accessibility resources and other student groups with outstanding access needs.
LabFind requires no coding and can be set up in as little as 5 minutes on campuses that are using LabStats monitoring software.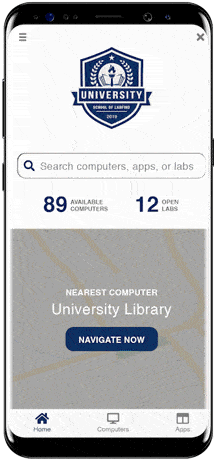 Idaho Falls, Idaho — Today LabStats released LabFind, an entirely new mobile app for college students that allows them to easily navigate to campus technology resources such as computers, printers, projectors, whiteboards, group study spaces and more. LabFind is powered by LabStats, a market-leading IT monitoring tool that first launched in 2004 and has been used by thousands of universities around the world.
Students can simply download the LabFind app onto their phones (Android and iOS), verify their association with a college campus and begin searching for technology resources on that campus. While many students will simply want to find the nearest available computer, LabFind's search functionality allows students to specify resources that best meet their needs. For example, a student who requires a specific photo editing software or a particular statistics package can refine their search parameters to navigate to the exact computer stations where that software is available.


"We expect that LabFind will empower lT teams to improve students' access to critical digital tools and workspaces with far less waste," John Felushko, Product Manager at LabStats said. "With LabFind providing transparency to students and LabStats providing rich information about usage behavior, IT teams can quickly make resources available where and when they will have the largest impact on student success."
LabFind is available now, for free, for all students of universities who are LabStats cloud customers. After a simple 5-minute setup process, LabFind is ready for use on opted-in campuses.
---
Links
---
Media
Download Media Package
---
About LabStats
LabStats invented the computer lab monitoring product space in 2004 with the introduction of LabStats 2.0. Today, LabStats is the market-leader in computer lab monitoring software and associated tools. LabStats continues to push campus IT monitoring forward by building new and better tools to help university IT staff understand campus technology usage.
---
Press Contact
Brett Ryan
brett@labstats.com
1 (208) 473-2222