How Faculty Can Empower Struggling Students with Access to Technology
Instructors are in the unique position to connect with struggling students, and can have a significant impact on overall retention.
First-year students have a lot on their plates. After the whirlwind of enrollment, financial aid, purchasing required materials and moving onto campus, the dust seems to settle as they start attending classes. Or does it?
For students who may be overwhelmed by all the changes, opportunities and responsibilities of their first year, some may opt for the minimum viable input to just get through. What does that look like?
Struggling Students

Schools have put a lot of resources into providing counselors, student success centers, advisors and more to assure students have every tool at their disposal to succeed. The problem with these resources is that they often require students to put forth additional effort to get help.
Consider what obstacles these students may already be facing:
First-year students or incoming freshmen who are not college-ready
Transfer students who have struggled through the process of transferring credits and are navigating a new campus
Low-income students who are balancing work and school with unreliable transportation and/or technology
At-risk or struggling students who are not able to keep up with academic demands
Students with tight schedules who are balancing work and family responsibilities
First-generation college students who are unsure what resources are available to them
Commuting students who spend little time on campus or rarely utilize on-campus resources
International or non-native speaking students who are learning a new language and culture while navigating college
Here's the challenge: the students who would benefit from guidance and resources the most, tend to engage the least. They may be hesitant to draw attention to themselves, or simply don't have the time or energy to sort through the various channels.
These students may put forth the minimum effort to stay afloat: just attending class. So how can we better reach struggling students?
Faculty's Unique Role
Instructors are in the unique position to connect with struggling students, and can have a significant impact on overall retention.
"Individual instructors — especially in the first semester and first year — make a huge difference. If colleges are willing to collect data at a more granular level, it almost always reveals that certain professors have learned how to reach at-risk students effectively and teach them skills to survive at the college. Other instructors can, and should, learn from them." Inside Higher Ed
While this is an admirable call to action, professors already have substantial workloads. We can't expect every professor to identify and reach out to at-risk students–and the students themselves may wish to remain under the radar or resolve issues independently.
Instructors have the unique opportunity to point students to the tools they need to succeed on their own–regardless of whether their needs have been identified or not.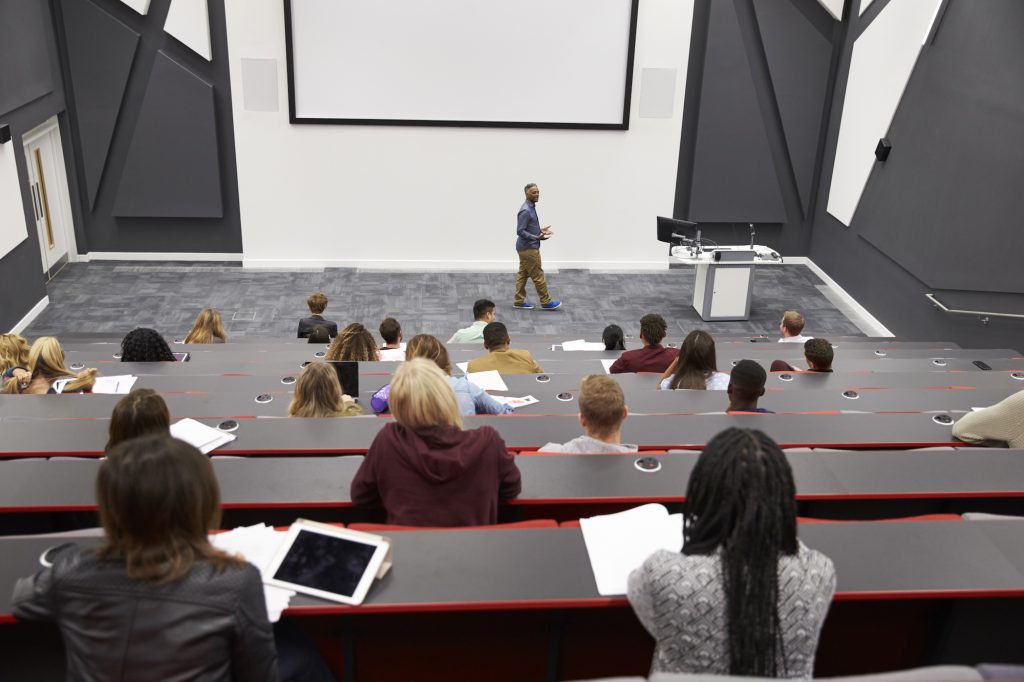 Access to Technology
One way professors can support student success is to ensure all students (not just those who are at risk or who voiced a need) have access to the technology required to complete their assignments.
Every assignment can be supported by easy access to the tools to complete the assignment. For instance, when assigning a research paper, instructors can direct students to computer labs and printers on campus. When assigning a group presentation, they can help students find quiet workspaces and projectors to practice their presentations. For assignments requiring specialized technology like a 3D design project, professors can put directions to 3D printers right in students' hands through a mobile app.
LabFind is a free mobile app that supports student success by breaking down the barriers to technology. With LabFind, students can search for the closest available computer, specific software or find a printer nearby.
This is especially helpful for new students who may not be familiar with the campus, and whom may not have specialized software like SPSS or Adobe on their personal or home computers. With LabFind they don't have to spend precious time looking for a computer, but can easily navigate to a computer with the software they need, and spend their energy on completing the assignment. When LabFind is shared in class through professors (especially in the first semester for new students), it may improve student retention.
Students don't need to reach out for resources or request help, but rather are empowered to find critical resources on their own, in real time. Instructors aren't expected to mentor every student individually, but can simply encourage students to download LabFind to find the tools to complete their assignment.
Access to technology doesn't have to be a barrier to student success, and can be shared directly through faculty members to ensure first-year and at-risk students don't miss out. Simple changes can start to improve retention and student success on your campus.


Work With Us

LabStats specializes in helping IT leaders reduce spend and get their budgets right.
RELATED