Returning to Socially Distanced Computer Labs
Computer labs won't look the same when students return, so what can universities do now to make the transition back to campus smooth, safe, and successful?
While the Cal State system announced all 23 campuses are preparing for an online Fall semester, many others are moving forward with plans to get students back on campus.
According to a survey conducted by the American Council on Education in May, 50% of college and university presidents have said it's "very likely that their institution would resume in-person classes for at least some portion of the fall term."
But returning to classes will come with plenty of new hurdles for both faculty and students. Faculty will have to navigate new workloads as they balance online and in-person classes.
Students will likely discover new challenges, including:
Reduced access to on-campus resources
Limited seating in computer labs
Carefully monitored room capacities
New traffic patterns
Limited library and lab hours
So what can universities do now to make the transition back to campus smooth, safe, and successful for everyone?
Provide Flexible Remote Access Options
Even if students and faculty have personal laptops or home desktops, it's unlikely they will have the specialized software or processing power to run necessary programs, and will rely on campus resources to fill in the gaps.
Students can access campus machines securely from their personal devices with the Remote Access Dashboard, a dashboard that students can use to find available campus computers. It also provides them with a simple, user-friendly mechanism to remotely log into that computer without any special training.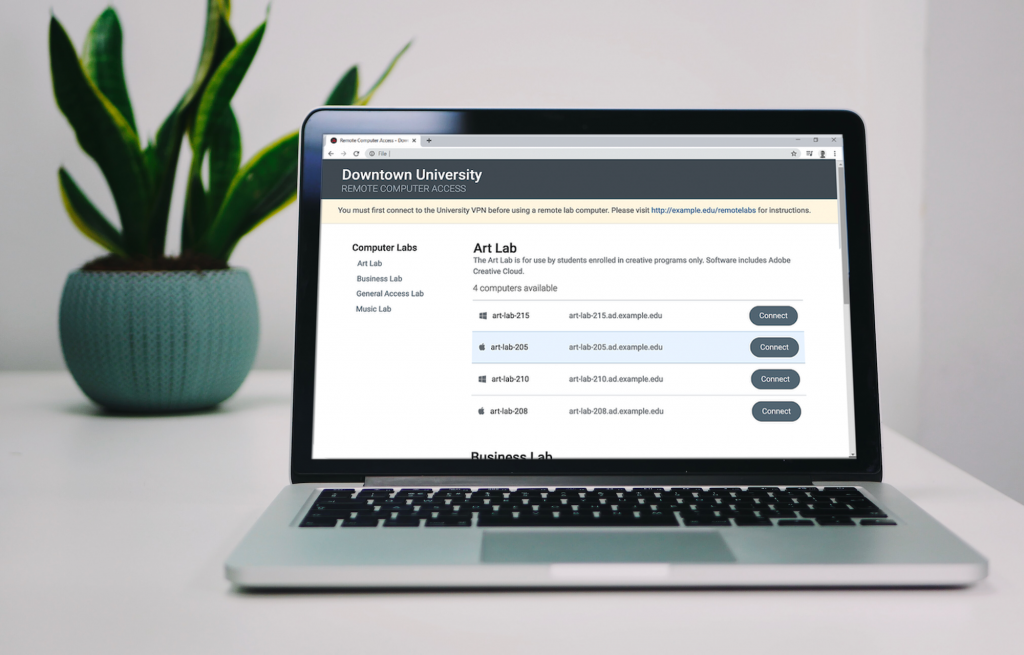 At home with the Remote Access Dashboard
Before students even get to campus, give them a link to the Remote Access Dashboard so they can start logging into school hardware and software before classes start. As soon as they need to use a specific software or start feeling under the weather, they can feel confident knowing that they have access to the resources they need, wherever they are.
To help students discover and use the Remote Access Dashboard, make it a point to communicate to students who are at home, on campus and in the computer lab.
Once your dashboard is created, you'll receive a link you can publish to give students access to the tool. Making sure all students can access the link is critical. Most schools choose to embed the link right on their school website. For added security, you can embed the link behind an authentication page. This requires students, staff and faculty to use their school login credentials before they can access the link.
How to generate awareness
Once your link is embedded in your school or department webpage, you can notify students, staff and faculty with a mass email. You can also point students to the tool with ads on the student login page or through your school's social media channels.
Promoting remote access before campus reopens can familiarize students with the tool and greatly reduce traffic in classrooms, computer labs, libraries and study areas.
Related: Will the Remote Access Dashboard Work for You?
On campus with LabMaps
Odds are, your computer labs will look a little different when students return to campus. Computers may have moved, and labs and libraries may have different hours or reduced capacity. But you can ease the tension that students may face in finding the resources they need with LabMaps.
LabMaps are simple, custom maps that you can create for each of your computer labs. Make a simple layout of your lab in any design program, and drop a dynamic icon in each location where there is a computer. The icons will use LabStats real-time data to dynamically change colors, indicating if a computer is available, in-use or offline.
To show computers that are only available for remote use, add any custom icon to the place where the computers are located. This may be every other machine, a group of computers in a classroom, or a whole lab. Include simple instructions for students to log into remote computers with their personal devices on the LabMap to reduce traffic in labs.
Related: Helping Students Find Tech on Campus
In the lab with screen locks and screensavers
Some labs and classrooms on campus may have computers that are available for in-person use, and some that are restricted to remote access only. You can use screen locks and screensavers to help communicate each computer's purpose.
Screen locks can prohibit students from using specific machines. If the machine is set up with the Remote Access Dashboard, we recommend including simple instructions to log in on the screen.
Screensavers can be used to encourage students to use the computer remotely next time. For students who have a laptop or computer at home, promoting remote access can help reduce traffic over time and create more space for students without alternative machines.

Next steps
Remote access is a flexible solution that puts the students' needs first. The LabStats Remote Access Dashboard goes beyond VDI to provide 24 hour access to campus hardware and software, in a flexible, affordable and sustainable way. Whether your school is embracing remote learning, returning to campus or caught in limbo, you can keep students connected and make the fall semester a success for everyone.

Further reading:
Set up your LabStats groups to gain insights on remote and in-person computer use.


Work With Us

LabStats specializes in helping IT leaders reduce spend and get their budgets right.
RELATED