LabStats vs. Other Software Monitoring
LabStats is the most reliable way for colleges and universities to understand when, where and how long computers and software are being used.
LabStats has been the leader in software monitoring for higher education for almost two decades. The first version of LabStats was developed by a university lab manager, just trying to find a better way to do his job. 
LabStats has revolutionized the way computer and application usage statistics are collected in networked IT environments. Computer monitoring software automatically tracks what is happening on university-owned desktops and laptops, and reports back to the administrator. LabStats is the most reliable way for colleges and universities to understand when, where and how long computers and software are being used.
Here's why:
LabStats monitors more software by default than leading competitors. 
For busy IT managers, all you need to do is install the client and let it run. Our program has an extensive library of applications that are tracked by default, saving large universities hundreds of hours of labor during initial setup compared to the competition.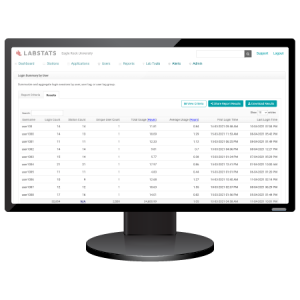 LabStats excels at physical lab usage reporting and tools.
See exactly how students use computer labs and classrooms on campus with hardware usage reports. Reports show you the peak day and time computers are in use, average number of logins per day in each room, and more.
You can also view the live availability of each computer in a room with LabMaps. Publish LabMaps on student-facing informational kiosks and your school's website to help students find available computers fast.
LabStats is the only solution designed to help students discover available computers both in person and remotely.
LabStats excels at helping students discover (become aware) of technology resources on campus and find what's available (right now), taking into account what exists/what's open/what's not busy/what's not in use with a combination of LabMaps, the Remote Access Dashboard and LabFind working in concert.
LabStats provides a complete software licensing picture, others don't. 
LabStats has both install data as well as usage data to get a complete software licensing picture. Learn more about Software Inventory.
LabStats has the only purposefully built remote access solution specifically for higher ed.
The Remote Access Dashboard (RAD) was purposefully built to connect students with remote computing when campuses began to close in early 2020. This feature wasn't shoehorned into a non-related product or originally designed for business environments like some other providers. 
LabStats is cloud based, does not require on-prem install like others.
LabStats has a cloud-based option with 24×7 human and automated monitoring for high availability & security, including industry leading security and standards compliance (via Microsoft). LabStats also has an on-premises option for schools that require it.
LabStats has the leading technical support in the industry. Hands down. 
LabStats technical support and customer success teams help customers learn how to use the software and how to apply usage data to solve complex problems. 
Support is not only included, it's encouraged. Whether that's a video chat to walk through how to pull a specific report, quick phone call to resolve an error message or an extended partnership to dig into the data and help you reach your budget goals every step of the way.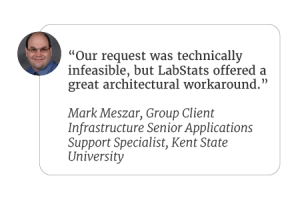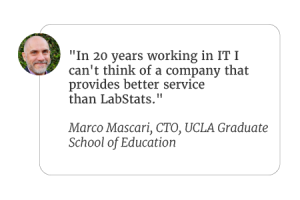 LabStats is the only monitoring solution designed for campus-wide reporting.
Designed to be a campus wide solution, LabStats works best at full scale. Get insights into not just one computer lab or one department, but every student-facing computer on campus, multiple campuses, staff and faculty computers and even machines used for remote learning.  With multiple options for bringing different groups/sub organizations on while giving custom levels of access, you can provide edit access to Central IT while providing view-only access to department leaders or deans. 
LabStats is upfront about pricing. Are others?
LabStats is higher-ed focused, and always has been. That's why our pricing is straightforward and designed for college and university budgets. After an initial $1,000 set up fee, all of LabStats features, tools and unlimited support are available for $8.40 per license, annually. See all pricing details. 
This affordable per client model is designed to enable colleges and universities to roll out LabStats computer monitoring software campus-wide. The more usage data you can easily access, the better decisions you can make around budgets and student experience. 
Ready to start gathering usage data on your campus? Schedule a walkthrough to see the LabStats in action. 

Work With Us

LabStats specializes in helping IT leaders reduce spend and get their budgets right.
RELATED